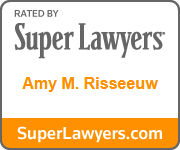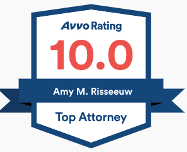 Amy M. Risseeuw
Managing Partner
---
Location:
Fax

920-831-0165
Amy joined Peterson, Berk & Cross, S.C., as an attorney in 2005. A graduate from the University of Wisconsin Law School, Amy practices in the personal injury section. Amy has tried many cases to verdict in multiple areas of personal injury law, including automobile accidents, dog attacks, premises liability and medical malpractice. Amy has also handled numerous appellate matters, appearing in the Court of Appeals of Wisconsin, the Wisconsin Supreme Court and the Seventh Circuit Court of Appeals. Amy has been selected for inclusion as a Rising Star in the Super Lawyer publication of Milwaukee Magazine.
She is a member of the State Bar of Wisconsin, the Outagamie County Bar Association and the Wisconsin Association for Justice. Amy has authored articles and given seminar presentations on developments in case law and other legal matters. In addition to professional organizations, Amy has served as a board member for the Big Brothers Big Sisters of the Fox Valley Region and coached the Lawrence University Mock Trial Team.
As a law student, Amy worked part time as a personal injury law clerk, served as Secretary to the Moot Court Executive Board, and was an Articles Editor for the Wisconsin Law Review. While a student at the University of Wisconsin-Madison, Amy played trombone in the Marching Band and Varsity Band. During her junior year, Amy studied abroad in Madrid, Spain, and she uses her foreign language skills in communicating with Peterson, Berk & Cross's Spanish-speaking clients in all of the firm's practice areas.
Areas Of Practice
Personal Injury
Automobile Accidents
Dog Attacks
Premises Liability
Medical Malpractice
Appellate Matters
Bar Admissions
Wisconsin, 2005
U.S. District Court Eastern District of Wisconsin, 2008
U.S. Court of Appeals 7th Circuit, 2014
U.S. District Court for the District of New Mexico, pro hac vice
Published Works
Risseeuw, Amy, Adding Insult to Injury – Worker's Compensation Attorney Fees, The Verdict, Vol. 38:1, Spring 2015
Risseeuw, Amy; Jacobs, Ann, Chapter 19 Overview of Negligence Claims for Older Clients, Advising Older Clients and Their Families, Elder Law Section and the State Bar of Wisconsin, 2015-present
Risseeuw, Amy, The Aftereffects of a Rogue Juror, The Verdict, Vol. 37:1, Winter 2014
Risseeuw, Amy, Book Review: Mild Traumatic Brain Injury and Postconcussion Syndrome: The New Evidence Base for Diagnosis and Treatment, by Michael A. McCrea, Ph.D., The Verdict, Vol. 34:4, Fall 2011
Risseeuw, Amy, Judicial Estoppel: A Cautionary Tale, The Verdict, Vol. 34:2, Spring 2011
Risseeuw, Amy, WAJ Women's Caucus Mentoring Programs, The Verdict, Vol. 32:3, Summer 2009
Risseeuw, Amy, When Cops Cross the Line, The Verdict, Vol. 30:3, Summer 2007
Risseeuw, Amy, Helping Clients with Common Property Damage Questions, The Verdict, Vol. 30:1, Winter 2007
Professional Associations and Memberships
Wisconsin Association for Justice, Member of the Jury Instruction Committee
Wisconsin Association for Justice, Women's Caucus Vice-Chair & Chair, 2011 to 2012
Wisconsin Association for Justice, Spring Seminar Co-Chair and Chair, 2013 to 2016
Wisconsin Association for Justice, Board of Directors, 2013 to Present
Wisconsin Association for Justice, Executive Committee Member, 2015 to Present
State Bar of Wisconsin, 2005 to Present
Outagamie County Bar Association, 2005 to Present
Outagamie County Bar Association, Secretary, 2012 to 2013
Outagamie County Bar Association, Vice President, 2013 to 2014
Outagamie County Bar Association, President, 2014 to 2015
Fox Valley Young Lawyers Association, Outagamie County Co-Chair, 2009 to 2010
Classes/Seminars
Issue Spotting in Premises Liability Cases and Ethics Questions and Answers in Fee Sharing Arrangements, Fox Valley Technical College, Continuing Legal Education Conference for Attorneys and Paralegals, Appleton, WI
Accidents Involving Governmental Vehicles, Car Crash Symposium 2020, State Bar of Wisconsin, Madison, WI, January 16, 2020
Ethical Considerations of the Client's File: Confidentiality, Transfers and Technology, Fox Valley Technical College, Continuing Legal Education Conference for Attorneys and Paralegals, Appleton, WI, November 8, 2019
Pretrial Techniques – Medical Records, State Bar of Wisconsin, Madison, WI, September 25, 2019
How Long Do I Have to Worry? Wisconsin Association for Justice, 2018 Women's Caucus Seminar, Wisconsin Dells, WI, November 9, 2018
2018 Tort Reform Legislation – Wisconsin Style, State Bar of Wisconsin, Madison, WI, August 19, 2018
Written Discovery in Premises Liability Cases, Wisconsin Association for Justice 2016 Spring Seminar, Green Bay, WI, March 18, 2016
Low Impact Tool Kit, State Bar of Wisconsin, Car Crash Symposium, Madison, WI, December 18, 2015
Avoiding Pitfalls with State, Municipal, and Federal Tort Claims, Wisconsin Association for Justice 2013 Spring Seminar, Green Bay, WI, March 22, 2013
Surviving An Appeal, Wisconsin Association for Justice 2012 Spring Seminar, Green Bay, WI, March 23, 2012
Expert Witnesses & Written Interrogatories, Wisconsin Association for Justice 2011 Spring Seminar, Green Bay, WI, Green Bay, WI, March 25, 2011
Bifurcation, Wisconsin Association for Justice 2009 Spring Seminar,Green Bay, WI, March 30, 2009
Statutes of Limitation: Exceptions to the 3-Year Rule, Wisconsin Association for Justice 2008 Summer Seminar, Egg Harbor, WI, July 12, 2008
Settling Uninsured and Underinsured Motorist Claims, National Business Institute, Appleton, WI, November 2007
Contribution in Product Liability Cases, Wisconsin Academy of Trial Lawyers 2006 Spring Seminar, Green Bay, WI, March 3, 2006
Education
University of Wisconsin, Madison, Wisconsin

J.D. – 2005
Honors: cum laude
Honors: Moot Court Board – Secretary
Honors: State Bar/Law School Academic Achievement Award for the highest grade in Business Organizations I §1
Honors: State Bar/Law School Academic Achievement Award for the highest grade in Employment Law I §1
Honors: Recipient of the American Bar Association/Bureau of National Affairs Labor and Employment Award
University of Wisconsin-Madison

B.A. – 2000
Honors: With Distinction, GPA 3.82
Major: Political Science and Spanish
Universidad Complutense, Madrid
Honors and Awards
Rising Star in the Super Lawyers, Milwaukee Magazine
Super Lawyer in the Super Lawyers, Milwaukee Magazine, 2019
Pro Bono Activities
Big Brothers Big Sisters of the Fox Valley Region, Board Member, 2009 to 2015
Coach, Lawrence University Mock Trial Team